We had a busy weekend that kicked off on Friday afternoon with Parker's preschool Christmas performance. He did such a great job singing, "We Wish You a Merry Christmas!" I'm hoping someone was able to capture it on video that I can share later.
Saturday morning we headed out to the Lowman Home and visited with Great-Granddaddy for a few hours. It was such a nice time! Parker was a little scavenger and found several candy canes and mints that he kept putting in his mouth!
We went to our neighborhood's annual Harborside Lights with the Fox family on Saturday evening. Parker was so excited about being able to see Santa Claus. After we had been waiting for a few minutes, he was a little unsure about sitting on Santa's lap. Once it was his turn, we all went up for a family photo and then Jon and I stepped back so we could have a picture of just Parker and Santa. Parker told Santa what he wanted for Christmas (blue blocks, a scooter and a baseball bat) and then received a candy cane. He was star-struck that he actually got to see Santa and keeps talking about going back to see him! This age is so much fun!
Finally, after church yesterday we had our church Christmas pageant. Parker's role was to be one of the barn animals - a horse. He did a great job at the rehearsal, but by the time 6pm rolled around he was tired of sitting around. Oh well, I guess he played the part of a horse perfectly by kicking his legs and crawling off stage! After the performance he went shopping in the Elf Store with the youth group where he picked out a present for his mommy and daddy. What a sweet boy!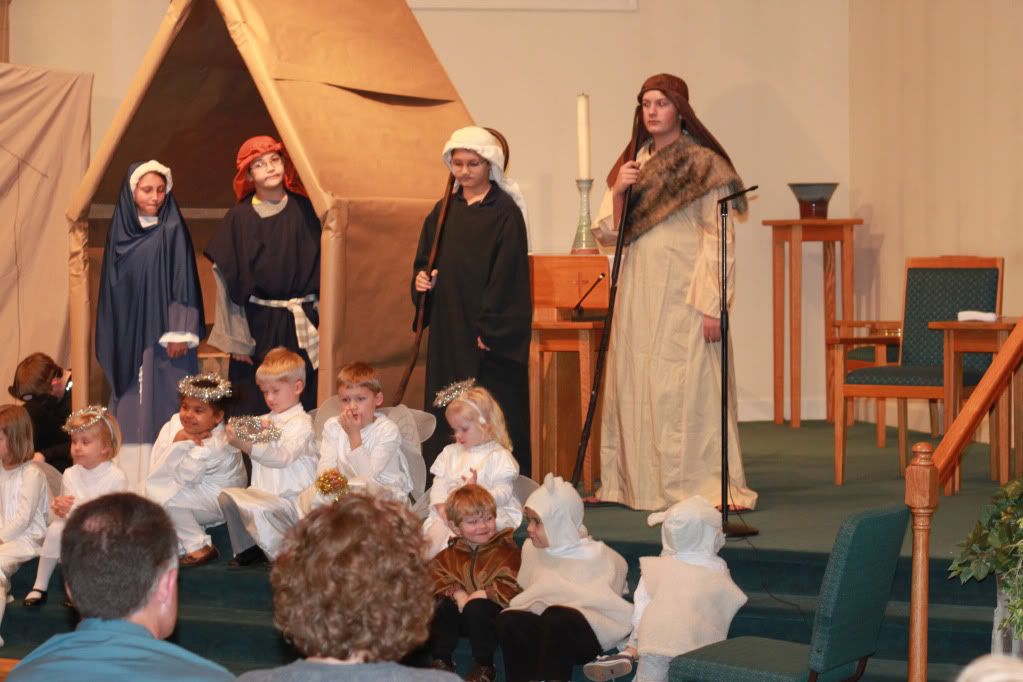 Look at that smirk - you can tell he's up to something!